With strawberry supports your berry bushes wouldn't become wet and rot even during wet growing seasons.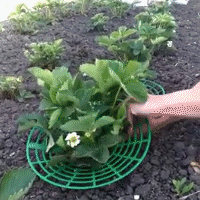 IMPROVE AIR CIRCULATION AROUND THE PLANTS: support straw berry plants up off the ground is one of the most effective methods to promote the plant growth and stop the berries from rotting.
EXTREMELY EASY TO USE: this strawberry plant support has been designed to offer you an easy way to use it - fit the support around your existing plants, snap together two ends, lock buttons and gently insert legs of the support into the ground.
DURABLE MATERIAL: the Komplekt-Plastic berry bush support is made of the high-quality, flexible and rot resistant material (polypropylene), which allows you long-lasting use at the wetting environments - no need to buy the plants support every year