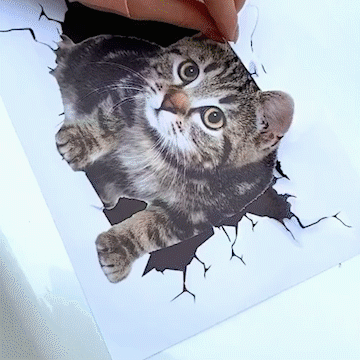 Have a delightfully smashing surprise with the Funny 3D Cat Stickers! These fun stickers feature cute, funny designs of cats smashing out of walls! 
This simple peel-and-stick decal uses a strong self-adhesive to make sure it stays in place without peeling, curling or wearing off. Featuring multiple designs of different cats, pick your favorite to decorate all over your house. It's durably made from water-resistant PVC.
💡HIGHLIGHTS💡
Funny Cat in the Wall

 - Featuring a cat smashing out of a wall, this cute and funny design will put a smile on anyone's face. 

Easy Installation

 - Simple peel-and-stick application.

Strong Self-Adhesive

 - Backed by a strong self-adhesive that firmly keeps in place and leaves no residue. 

Quality Material - Durable made from quality, water-resistant PVC for longtime use.
Different Designs 

- Available in multiple funny designs of different kinds of cats. 

Widely Applicable

 - Use it in your bathroom, kitchen, bedroom, office, car and more.

Instructions: Very easy to apply - simply peel and stick.  Removal is also quick and easy and won't leave any long term marks.

size
#01-#09:

#10-#18:
#19-#20: