Hidden floor drain,Prevent odor and insect invasion, Just one touch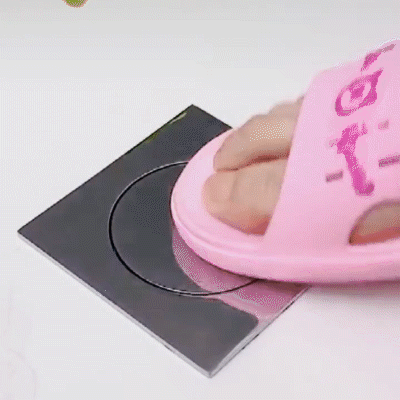 Traps hair to prevent drain clogs.

ANTI-ODOR & ANTI-CLOGGING: Gravity spring design copper inner core has the auto-opened and sealed function to prevent unpleasant smell; Removable grate and hair strainer/ trap to help collecting hair and other debris, preventing against clogging and easy for cleaning.
DIMENSIONS: 4 inch Length, 4 inch Width(10cm x 10cm), 1.5" bottom outlet(φ39 mm). Please note this floor drain does not work with Shower Drain Base or Rubber Gasket.
DOUBLE USES COVER: One Black Plated Flat Side and One Tile-in Side(tile thickness ≤ 10mm). This shower drain is designed to complement the look of new or existing decor. Can be multipurpose used in kitchen, bathroom, garage, basement and toilet etc.