Simply slide to move to ideal position, and adjust your viewing angle without limitation - ball joint offers 360° rotation .
It comes with additional stick-um for perfect adhesion to any surface as well as a free bonus lens-screen cleaner to always keep your device's lens-screen crystal clear!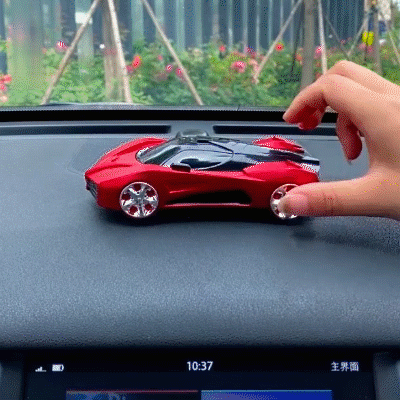 ---
Safe Driving

Adopts HUD (Head-up Display) simulating design which firmly hold your device within driving viewpoint to prevent refocusing
keeping your eyes on the road for safe driving during phone/video calling, GPS navigating, music playing or phone charging.
360° Adjustable
Ball joint design allows all-direction rotation for both landscape & portrait orientation.
Also the foldable axis offers 180° tilting for optimal viewing angle. Enjoy a boundless horizon while driving on the road.
Easy to Clip / Remove
Simply slide to move to ideal position, or even remove it without leaving residue/ mark.
Anti-scratching

Soft silicone pad perfectly protects your phone and dashboard from damaging and scratching.
Features:
1.Car phone holder for placing your phone securely while driving.
2.360-degree rotating design, you can adjust it to any angle you want
3. You can switch between horizontal and vertical screens.
4.One-hand control, easy to pick up and put back your phone with one hand.
5. Adapt to multiple scenes, easy to follow the drama in the home, office and car.
Colour: Black
Material: ABS
Packing list:
1*Car holder