Just a single push, you will get some small watermelon cubes in a second, and it do not get your hands dirty.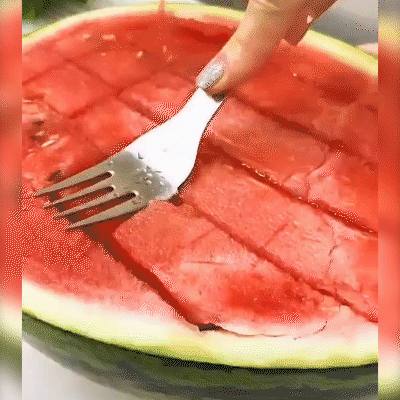 "I received the watermelon cutting tool and immediately put it to use. I am happy to report it works as advertised. It is a great accessory!! Keep in mind it works best when the meat of the watermelon is firm."
                                                              - Alexandra Drevnak
"This tool is so handy!! I hate cutting watermelon, but this tool is so fast and easy to use and easy to wash. It's convenient to eat melon cubes with the fork without changing to another tool."
                                                              - Andrea Draine
Main Features
[Multi-functions]
▶ Watermelon Slicer - This unique cutter allows you to cut the watermelon into perfect cubes and serve them on the plate. You can enjoy refreshing watermelon cubes without dealing with drippy table.
▶ Watermelon Fork - 2-in-1 cutter and fork, it is easy and convenient to eat melon cubes immediately after cutting.
[Food Grade Material]
Adopting SUS 304 stainless steel material, which is strong and durable, corrosion-proof and rust-proof. Finely polished fork with smooth edges and no burrs. High precision polished handle with comfortable hand feeling.
[Easy to Use]
You can get some small watermelon slices quickly with a push, and you won't get dirty or hurt your hands.
Specifications
Material: SUS 304 Stainless Steel
Color: Silver
Weight: 41g
Size: 21cm
Package Includes: 1x 2-in-1 Watermelon Fork Slicer